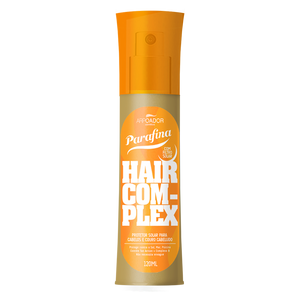 Parafina Bronze Hair Complex - Sun Hair and Scalp
UNLOCK YOUR HAIR BEAUTY WITH JUST ONE PRODUCT!
Parafina Bronze Hair Complex is a sun hair and scalp, that protect your hair from the harmful effects caused by the sun, sea water and pool.
PRODUCT HIGHLIGHTS:
-PROTECTS COLOR
-MOISTURIZES HAIR
-PROVIDES HAIR SHINE
HOW TO USE:
For the best results: Generously apply one layer over the entire hair evenly. This is a leave in product, does not require rinse.
RECOMMENDATIONS:
Always read packaging before use.
Perform touch test as directed on packaging
Reapply product to ensure effectiveness
PACKAGING:
- 1 Hair Complex Leave In (120g)