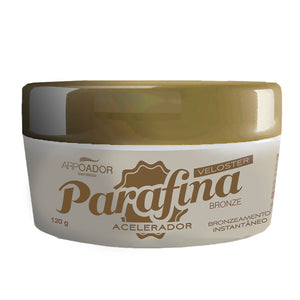 HAVE THE TAN OF YOUR DREAMS WITH JUST A FEW HOURS OF FUN IN THE SUN!
Paraffin Bronze Veloster Tan Accelerator is the perfect addition to a successful tanning day! Although it requires sun exposure for activation, it still actively moisturizes your skin preventing skin peel or sun burn when applied correctly.
HOW TO USE:
For the best results: Apply a layer generously over all areas of sun exposure 30 minutes before exposure. Reapplying the product is necessary to maintain its action. Reapply the product every two hours and after swimming, intense sweating or prolonged exposure to the sun. Dry with a towel.
RECOMMENDATIONS:
Works great with our Paraffin Bronze SPF 8
We suggest reapplying the product as needed to ensure effectiveness.
Try to avoid sun exposure from 10am to 4pm, always wear a hat and stay hydrated.
We suggest that some cares be taken because it can cause stain on clothing,
We suggest not to wear with white or light bikinis and preferably not new, as they tend to absorb more easily the coloring of any product with a dark tint. Please use with care as this product can stain clothing. If you spot your bikini, leave it to soak in Vanish.


PACKAGING:
-1 VELOSTER Accelerator (120g)